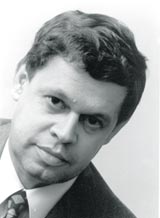 Valentin Georgiyevich specializes in subsoil use law, corporate law, provides legal support for merger and acquisition transactions.
He graduated from Perm State University and has a degree in law. He is a candidate of legal sciences, Honoured Lawyer of the RF, Honorary Prosecutor of USSR, Honorary Law Officer of the RF, associate professor of the Advocacy Department of Moscow State Institute of International Relations of the Ministry of Foreign Affairs of the RF, Honorary Professor of Perm State University, Honorary Doctor of Chuvashia State University, vice-president of the Community Council of the Federal Agency for the Subsoil Use.
From 1975 to 1993, he worked for the public prosecution agencies and rose thought the ranks from an investigator of a regional Prosecutor's Office to become the Prosecutor General of the RF. He was elected an RF people's deputy (years 1990 -1993), a deputy of the 2nd State Duma (years 1995-1999), he held the offices of a Deputy Authorized Representative of the RF President in the Privolzhsky Federal Okrug, a Deputy Secretary of the RF Security Council, a Deputy Minister of the Natural Resources of Russia, since 2006 he has been engaged in private legal practice.
Before he started working for UKey consulting company, while being Deputy Minister of the Natural Resources of the RF, Valentin Georgiyevich was involved in elaborating new Forest and Water Codes of the RF, improving the Land and Natural Resources laws. He was responsible for elaborating regulatory enactments in the sphere of subsoil use, enactments regulating operation and interface procedures for federal agencies (Rosnedra, Rosleskhoz, Rosvodoresursy, Rosprirodnadzor). He was a member of the Expert Panel for the Preparation for the G8 Summit in 2005 (Glendegles in Scotland) and in 2006 (St. Petersburg) in energy security. He is a regular participant of Russian and international conferences devoted to the issues of nature management, energy security and environmental protection.
Valentin Georgiyevich has an extensive experience of work in law enforcement agencies, in government authorities. While being a deputy of the Supreme Soviet of the RSFSR and a deputy of the RF State Duma he was involved in drafting laws to regulate powers of the government authorities. When he was working in the capacity of Deputy Authorized Representative of the RF President in the Privolzhsky Federal Okrug from 2000 to 2003, he was involved in adjusting local laws in accordance with the RF Constitution requirements. When he was holding the office of Deputy Secretary of the RF Security Council he dealt with the issues of national security in the economic sphere.
He was awarded RF President's Certificate of Honor for taking an active part in elaborating the Constitution of the Russian Federation. He is a member of the Executive Committee of the RF Association of Lawyers.