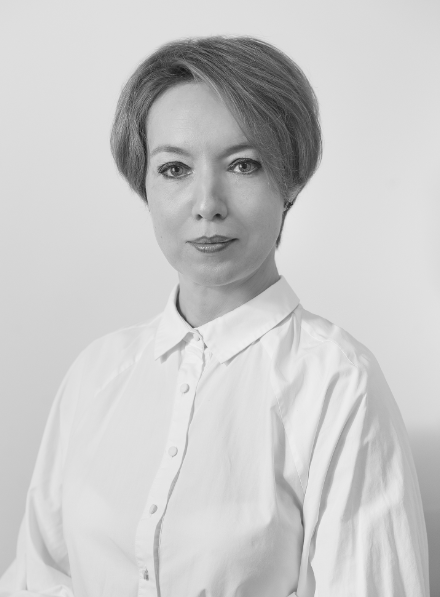 Anzhelika specializes in laws regulating legal relations in the sphere of real estate and land resources.
She graduated from Perm State University and Higher School of Economics and has degrees in law and economics; she has a qualification of international mediator for resolving interpersonal and social conflicts after completing a course in mediation at St. Petersburg State University. She is fluent in the English and French languages.
Before coming to UKey in 2002, Anzhelika was a legal advisor at the Directorate of Integrated Customer, a municipal institution, from 1999 she was Legal Department Manager at the Technical Inventory Bureau and represented individuals and legal entities in courts on issues connected with real estate, and was involved in elaborating regulatory enactments.
With UKey, Anzhelika is responsible for registering titles to complex real estate items, including those title to which is to be confirmed judicially; assists in registering titles to land plots; and gives advice regarding forest, water, air, environmental laws and in relation to efficient use of agricultural land. She provides legal support for projects and deals connected with investment activities and capital construction, is involved in structuring real estate purchase and sale deals made in various regions. She successfully defends rights relating to real estate and land in courts, has experience of interfacing with state authorities and local government agencies and is involved in performing comprehensive due diligence in relation to real estate and land resources, including those owned by large enterprises. Her accomplishments include comprehensive due diligence of various enterprises followed by development of antitrust actions and their subsequent implementation. Since 2008, she has been in charge of projects connected with auditing and registering titles to real estate, including in a judicial procedure, in Moscow and Moscow Oblast.
She has successfully completed large-scale projects for the following companies: Uralkaliy, ОАО, AZOT, ОАО, Novogor-Prikamie, ООО, Berezniki Soda Plant, ОАО, Soda-Chlorat, ООО, Aleksandrovsk Machine Building Plant, ОАО, LUKOIL-Perm, ООО, Sozvezdiye Perm Refrigerating Plant, ОАО, Goznak Perm Printing Plant, Government Entity, Gipsopolimer, ОАО, Evrokapital, ООО, Polluks Financial Company, ООО, Perm Building Ltd, ООО, Khimprom, ОАО, Moscow Chemical Company, ООО, Glavstroi Corporation, Bazovy Element Corporation, ООО, RosEvroDevelopment, OOO, TsAGI Federal State Unitary Entity.